A New and Improved Caramel Apple
Substitute sugar with SUE BEE® honey in this tasty autumn treat
Caramel apples are a sweet delight any time of year but, in the fall, when apples are fresh and the Halloween season looms, these treats are a must-have.
Unfortunately, they traditionally come with lots of sugar. But don't fret, we've solved that problem by using SUE BEE® honey instead. Our honey gives the caramel a rich, creamy texture without all the graininess that comes with sugar.
Ingredients
1 1/4 cup SUE BEE® honey
6 fresh medium-size apples
1 cup heavy whipping cream
2 tbsp. butter
1/2 tsp. sea salt
1 cup crushed cashews and/or colorful sprinkles
6 popsicle sticks
Red food coloring if you want that familiar caramel color
Directions
First, whisk your SUE BEE® honey with the whipping cream, butter and salt in a saucepan over medium-high heat until it begins to bubble. Then, reduce the heat to medium. Stir in some of the red food coloring (if you want) to get the color your desire.
You don't want the caramel to burn or bubble up, so continue to whisk it. Cook until it reaches a temperature of 250F, with the caramel reaching a thickened state.
Next, pour the honey caramel into a mixing bowl and place the bowl into a larger bowl with ice. Stir the caramel until it cools and begins to thicken.
Then, insert a wooden stick into the core of your apples and roll them in the caramel until coated. If you want to jazz up your honey-caramel apples, roll them in chocolate baking chips and/or sprinkles, and place them on a piece of parchment paper to cool completely.
Enjoy!
Protected: Beehive Stencil
Protected: Honeycomb Stencil
Protected: Honeybee Stencil
Honey Halloween Carving
Try these honeybee-themed stencils on your jack-o-lanterns this year
This is for all the aspiring Michelangelos amongst our Sioux Honey lovers out there – so get out your pumpkin-carving tools and get ready to sculpt a masterpiece.
Using our honey-themed pumpkin stencils, you can carve a jack-o-lantern that the whole neighborhood will admire. Choose from a honeybee, beehive or honeycomb. Carve all three for a hat trick of honey Halloween fun!
When you're done, share your work of art with us. You can tag us @SueBeeHoneyUSA on Facebook or @SueBeeUSA on Instagram.
Click on the stencils below to print, or download to save and print later.
Pumpkin Spice? How Nice!
Our new muffin recipe offers a perfect pairing of pumpkin and honey
October is a popular time for all things pumpkin spice, but who says you can't enjoy the fall flavor any time of the year? Not us, we love pumpkin spice ALMOST as much as we love honey. Which is why our recipe for Honey Pumpkin Muffins is such a hit with all of our honey lovers!
Ingredients
3/4 cup SUE BEE® honey
1 ½ cups whole wheat flour
½ teaspoon baking soda
2 eggs
½ teaspoon salt
½ cup packed brown sugar
1 teaspoon pumpkin pie spice
¾ teaspoon baking powder
¾ cup canned pumpkin puree
½ cup vegetable oil
Directions
Preheat the oven to 350 degrees F.
Grease a 12-cup muffin pan.
In a large bowl, stir together the whole wheat flour, brown sugar, pumpkin pie spice, baking powder, baking soda and salt.
Add in eggs, pumpkin, oil and SUE BEE® honey. Mix just until the dry ingredients are absorbed.
Spoon into muffin cups so they are about 2/3 full.
Bake for 20 minutes in the preheated oven.
Cool in the pan before removing from cups.
Drizzle muffins with icing (recipe below).
Muffin Icing
Ingredients
1 cup powdered sugar
1/2 teaspoon vanilla
1-2 tablespoons milk
Directions
Mix powdered sugar, vanilla and milk, 1 tablespoon at a time, until spreadable (mixture will thicken slightly as it sets).
Once Upon a Hive …
Updated logo reveals 100-year journey of the Sioux Honey Co-op
Tell a 100-year story in a single, unassuming logo. That was our ambitious goal when we set out to design the updated Sioux Honey Co-op logo – crafted, coincidentally, during our 100th anniversary.
What story does our refreshed logo tell? If you look closely, you can envision a story about five beekeepers from Sioux City, Iowa, who decided to pool their honey and create a partnership, a co-op, back in 1921. That's a heritage reflected at the top of our updated logo.
Heritage is – and always will be – at the root of our beekeeper-owned co-op, which has grown from those five beekeepers to more than 200 Sioux Honey families today. It's a legacy at the heart of our beloved co-op that highlights our generational commitment to quality, and celebrates our unique place in the honey industry.
Simply put, "We wanted to update our Sioux Honey logo to better reflect the heritage of our co-op members and honor the purity of the honey they produce," says Alex Blumenthal, President & CEO of the Sioux Honey Co-op.
That purity comes from a logo that is purposely simple and free of clutter. We didn't want to over-design it. Rather than feeling "trendy," our hope was to not only shape a logo that represented a forward-moving co-op, but also one with a rich history.
Instead of sharp edges, we worked towards a more natural, fluid design to propel the oval-like rings that make up the icon.
"The typography inspired by the SUE BEE® logo needed to reflect the consumer loyalty that SUE BEE® has earned over the past 100 years," Blumenthal says.
The three ovals represent three unique aspects of Sioux Honey:
One, they make the shape of the world's most precious and essential pollinator, the remarkable, hard-working honeybee.
Two, the interlocking of rings symbolizes the interconnectedness of our beekeeper-owned co-op members.
And three, the ovals themselves pay homage to the oval shape that formed the background of one of our earlier logos.
Often, the absence of an element tells a story, too. Longtime Sioux Honey lovers might have noticed that the word "Association" has been removed from the end of our name. Today, we are simply the Sioux Honey Co-op.
"We decided to remove the word 'Association,' because we felt it didn't accurately reflect the spirit of the nurturing and entrepreneurial nature of the hundreds of small, individual family-owned beekeeping businesses that joined together as a co-op to champion both the health of our bees and purity of their honey," explains Blumenthal.
Conversely, we added a new element – the words "a beekeeper-owned co-op" to the base of the updated logo – to reflect our heritage even further.
And finally, the colors. We chose to use earth tones in our updated logo to tell another piece of the story. It shows that our beekeepers are stewards of the land, and our honey is natural, while the golden hue mimics both the coloration of the honeybee and the pure golden deliciousness of our honey.
How does this story end? The best part is that it doesn't. Our story is a happily-ever-after affair, and we can't wait to see what happens over our next 100 years.
A Brotherly Love of Honey
Sioux Honey's Mark and Doug Mammen reflect on their combined 93 years at honey co-op
Let's put 2.8 billion pounds of honey into perspective. That's enough honey to fill:
353 Olympic-sized pools (each one holding 7.9 million pounds of honey)
Or … enough honey to fill 2.24 million 20-ounce YETI tumblers
Or … enough honey to fill 89,600,000,000 (89.6 billion!) tablespoons
You get the idea. It's a LOT of honey. And it's how much honey is estimated to have been collected by the beekeeper members of the Sioux Honey Co-op over the past 100 years. Yes, an "estimate," but one that's probably close to spot-on because it's coming from two brothers who have worked at Sioux Honey for nearly half its existence.
Meet Mark and Doug Mammen. Mark, currently President Emeritus, has worked at Sioux Honey for 48 years. Doug, currently vice president of member relations, has been with Sioux Honey for 45 years. If anyone knows how much honey the co-op has collected over Sioux Honey's 100 years, it's these two.
Which is why we sat down for a chat with the Mammen brothers as we celebrate our 100 years as a beekeeper co-op – to learn about some of their insights into the world of honey; hearing about things they've absorbed over their long tenures in the cooperative.
The 'Correctionville Pipeline'
Mark and Doug weren't the only Mammens to work at the Sioux City, Iowa-based honey co-op. Their father worked at Sioux Honey as well, for 28 years.
"Our aunt, uncle, sister, and one of our cousins worked here, too. We had a regular pipeline from Correctionville, Iowa, which is where we're from," says Mark, who spent time in the packing line for many years before moving to beekeeper-member relations. "There was a number of us from Correctionville who worked at Sioux."
Correctionville is small Iowa town (population 806) directly east 33 miles from Sioux City.
"There were a lot of people from Correctionville who drove 30 miles every day – rain, sunshine, snow," Mark continued.
"And then many moved to Sioux City," added Doug, who spent several years in the co-op's processing and shipping departments.
Family has always been front-and-center at Sioux Honey, which began in 1921 with five beekeepers who lived in the Sioux City area.
"It was five local beekeepers with $200 cash capital and 3,000 pounds of honey (valued at $500) that started the co-op," said Mark.
"It was the motivation, creativity and ingenuity of those early beekeepers that grew Sioux Honey. At that time, there was really a need for a honey packer in the Midwest. The east had plenty of packers and there were packers out west, but not here in the Midwest where beekeepers needed packing facilities, so they had a place to sell their honey. That's how the idea of the co-op came to be."
Growing the Membership
As a co-op, not a corporation, Sioux Honey is about teamwork. For the past 100 years, the co-op has kept its focus on what is best for the beekeeper members, our honey and the honey-lovers who buy Sioux Honey, whether it's SUE BEE® honey, AUNT SUE'S® Raw & Unfiltered Honey, SUE BEE® INFUSIONS™ honey, SUE BEE® SPUN® honey or any of our other honey products.
"I don't think many people really know what a cooperative is," says Doug. "We're actually owned by the beekeepers."
Those beekeepers – all 200+ of them today – pool their honey together and everyone shares in the profits from the sales of that honey.
"When we started, it was a small group of beekeepers with a small pool of honey, but the co-op gave them an outlet for all of it," says Mark. "At that time, a lot of them would deliver their own honey in pick-ups. It has obviously really evolved over the years."
The five beekeepers who started the co-op began with about 3,000 pounds of honey in the first year. Today, the co-op collects about 30-38 million pounds of honey each year. The original five also packed their honey and marketed it, too.
Today, the main thing the beekeepers need to do is focus on keeping their bees healthy so they can produce the delicious honey we have come to enjoy at home on a daily basis.
"Our beekeepers don't have to spend time marketing their honey or selling it. We supply them with containers, either 55-gallon drums, barrels or new totes that hold two-and-a-half to four-and-a-half drums of honey," says Mark. "Independent beekeepers have to find their own containers and buy them, and they're pretty expensive and hard to find these days.
"Then we pick up their honey. They just make a phone call, and we come right away to pick it up. Bring it back, bottle it up, send it to stores, market it and handle all the sales."
It's a big reason there is a waiting list to become a Sioux Honey beekeeper. Mark and Doug say there is a process that potential beekeepers need to go through, which includes checking the quality of the beekeeper's operation.
"We always feel that when we accept a new member, we want them in for the long haul, not just one year," says Mark.
Once a new beekeeper is accepted, the Mammen brothers make it a point to get to know them. Mark and Doug say they know all of the current 200+ Sioux Honey beekeepers by name and face – and they've met many of them in person. The newest beekeeper member of the co-op is number 3,083.
As for the oldest current membership, that distinction goes to the Sundberg family, which is on its third generation of Sioux Honey beekeepers. They hold Sioux Honey Co-op beekeeper number 44, which has been passed down from generation to generation.
"I have a membership list in my office that goes all the way back to number one," says Doug.
Ensuring Quality
Part of the vetting process for accepting new Sioux Honey Co-op beekeepers is testing their honey to make sure it meets the standards of the cooperative.
After the Sioux Honey in-house labs test the honey to ensure it meets our high standards, samples are then sent to accredited third-party labs where they go through another series of tests that range from purity to pollen analysis.
Even after the members are accepted into the co-op, their honey is still tested rigorously each year to ensure that the high quality remains the same year to year.
Nearly 5 decades of Making Friends … and Counting
Looking back on their time at Sioux Honey, Doug and Mark both point to the relationships with the beekeepers as some of their fondest times.
When asked more about his experience and favorite part about working at Sioux Honey Doug replied, "The beekeepers and the people you work with here. It's always been a great place to work, but the relationships I've formed over the years … some of my best friends are our member beekeepers."
"Ditto," said Mark.
"When you come up through our Member Relations group, you really get involved in that side of the business. The people you get to know over the years, just the pride, I guess, in being with a company that stands for what Sioux Honey stands for."
A Happy Couple
Honey + the zest of BBQ = a deliciously popular sauce
It originated nearly 40 years ago one afternoon at the Sioux Honey plant in Sioux City, Iowa. Plant Manager Denny Kayl began experimenting, mixing ingredients and taste-testing what would later become one of Sioux Honey's most popular products: SUE BEE® Original Style Barbecue Sauce.
Denny used a mixer that had previously been used to create SUE BEE'S® SPUN® Honey. In fact, we still use that same mixer – made in the USA, by the way – to make fresh batches of our famed BBQ sauce. We've also stayed true to the original recipe, with a minor tweak here and there. One thing (along with the mixer) that has never changed: Honey is the first ingredient.
Our original style barbecue sauce did not come about because we thought adding honey to a barbecue sauce would be a good idea. It came about because we thought adding a barbecue sauce to honey would be a tasty idea. There's a big difference. Honey was the first ingredient, not an afterthought. And you can taste the difference. In fact, 48% of our SUE BEE® Original Style Honey Barbecue Sauce is our honey. That's important to us. Then we add rich tomato and natural spices to complete a sweet and tangy blend.
"The sweetness of honey pairs well with many foods but really compliments BBQ," says Dustin Livermore, director of quality control at Sioux Honey. "It definitely takes BBQ sauce to the next level. Unlike many other honey-BBQ sauces, where honey can be a very minor sub-ingredient, in our sauce it is the star of the show; it is the No. 1 ingredient."
Dustin says the magic happens in that celebrated mixer we mentioned earlier. "The mixer is used to blend the ingredients together. Then, in a steam-jacketed tank, the sauce is cooked to the correct temperature. And then it sits for a set amount of time before finally being moved to bottling."
The result? The perfect honey BBQ sauce.
If any of this is tickling your taste buds, visit the SUE BEE® Amazon pageand order a bottle now so you'll have it on hand for your next cookout. And if you need some grilling ideas, be sure to take a gander at our mouthwatering recipes for SUE BEE® Honey BBQ Chicken Wings and SUE BEE® Honey BBQ Ribs.
A Half-Century … And Then Some
From mopping floors for $1.50 an hour to Plant Manager, Sioux Honey's Denny Kayl looks back on his long career at the Iowa-based co-op
Denny Kayl took a pay cut to work at the Sioux Honey Co-op. He went from a welding job that paid $2.10 an hour to mopping floors in the co-op's warehouse for $1.50.
That was in 1968. This past summer, after 53 years at Sioux Honey, Denny retired as the co-op's Plant Manager. Before he rode off into the sunset, we sat down for a chat in his office to talk about his journey at Sioux Honey and why he initially left a higher paying job to work here; how the honey business has evolved over the past 50 years; and what he planned to do in his retirement. You'll read that Denny is certainly one of a kind, and he is going to be missed.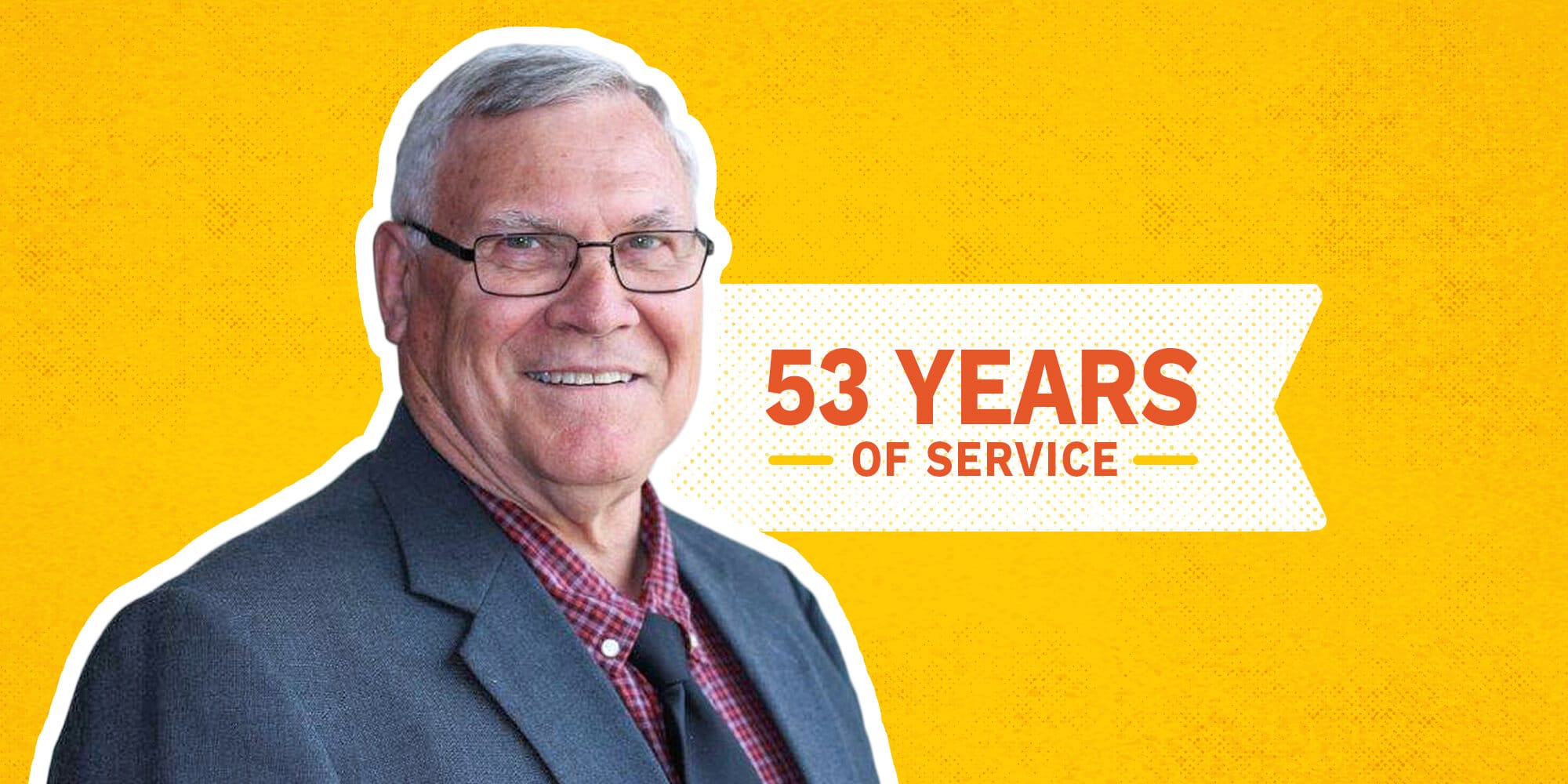 Vietnam and black lungs
Born and raised in South Dakota, Denny made his way to Sioux City, Iowa, in the mid-1960s to take a job as a welder out of high school. In 1968, Denny was called on to serve in the Vietnam War. But the draft board chose not to enlist Denny after discovering he had developed black lung disease as a result of poor ventilation at the welding company. It also didn't help that Denny was tone deaf.
"I'm still tone deaf, but the black lung disease has gone away," Denny says. "When the draft board rejected me, they said, 'You better quit what you're doing, or you'll probably die a young man.'"
So, Denny talked to his brother, Carl, who was working at Sioux Honey at the time. Carl got Denny a job as a maintenance line worker.
"I started February the 2nd, 1968," Denny recalled. "I started mopping the floors, cleaning things up. I did that for a couple of years. The manager at the time began showing me the ropes – showing me how the machines worked. And in 1970, I became Assistant Plant Manager. A couple years later, that manager retired, and I was promoted to Plant Manager. And the rest is history."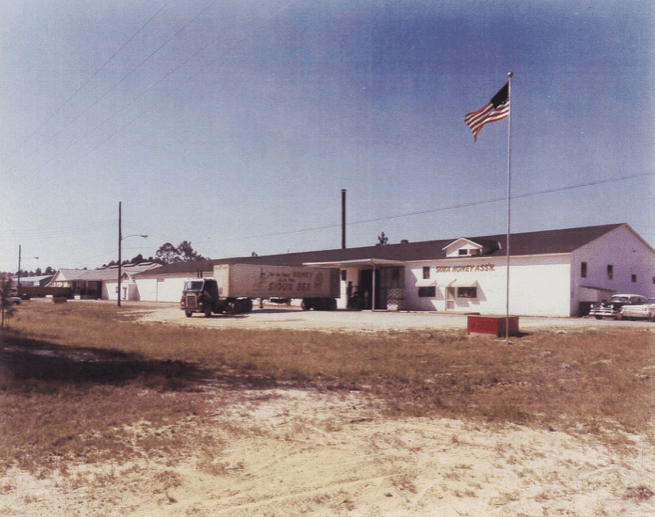 A lot has changed in 53 years
The Sioux Honey Co-op has evolved considerably over the years, and Denny has been there for many of the most notable changes. Transforming the honey bottles from glass to plastic was among the most significant.
"I think it was '82 when we went to plastic," Denny says. "That was probably the most challenging thing we've had to deal with. Speed-wise, that was pretty major; you just have to handle it differently.
"It's like, we went from something heavy to handling feathers. Plastic is lighter, a little more difficult to handle. And so it slowed things down. We went from 140 bottles a minute in the glass jars, to the max around 138 in the plastic. That all varies in the different sizes on the speed, too. So how much honey you're putting into a plastic bottle kind of dictates the speed of it. We're running 15 different sizes of the bottles at this point in time in the plastic."
When Denny started, many of the operational phases were done by hand – specifically the packing process.
"When I first started, when we also handled the comb … we had a lot of honey stored in barrels, and we had to wheel honey from the basement over to an elevator, put four drums on the elevator, take them up to the first level, and that's where we were melting the wax from the combs.
"Back then, we did most everything by hand – there was even very little use of the forklift. But now we have the help of machines, and they are a lot more involved. "
A Day in the life …
Even after 53 years, Denny says he comes into work each day not fully knowing what that day will bring.
I don't always know what it's going to be like, what new developments might arise, what I'm going to have to deal with, or this and that," he says. "But we do the same thing mechanically every day and we have to deal with personalities and people; there's a lot more people involved in it. You just deal with different situations as they come, as you're presented them."
Denny says he spends a lot of his days walking … and walking … and walking …
"I walk so many miles in here, I have no clue how many miles I walk on any given day. … One trip out to the line is about six blocks out and back, and I do that a lot. But lately, sometimes I'll jump on a forklift because the concrete has taken its toll a little bit on my hips. But I can't complain."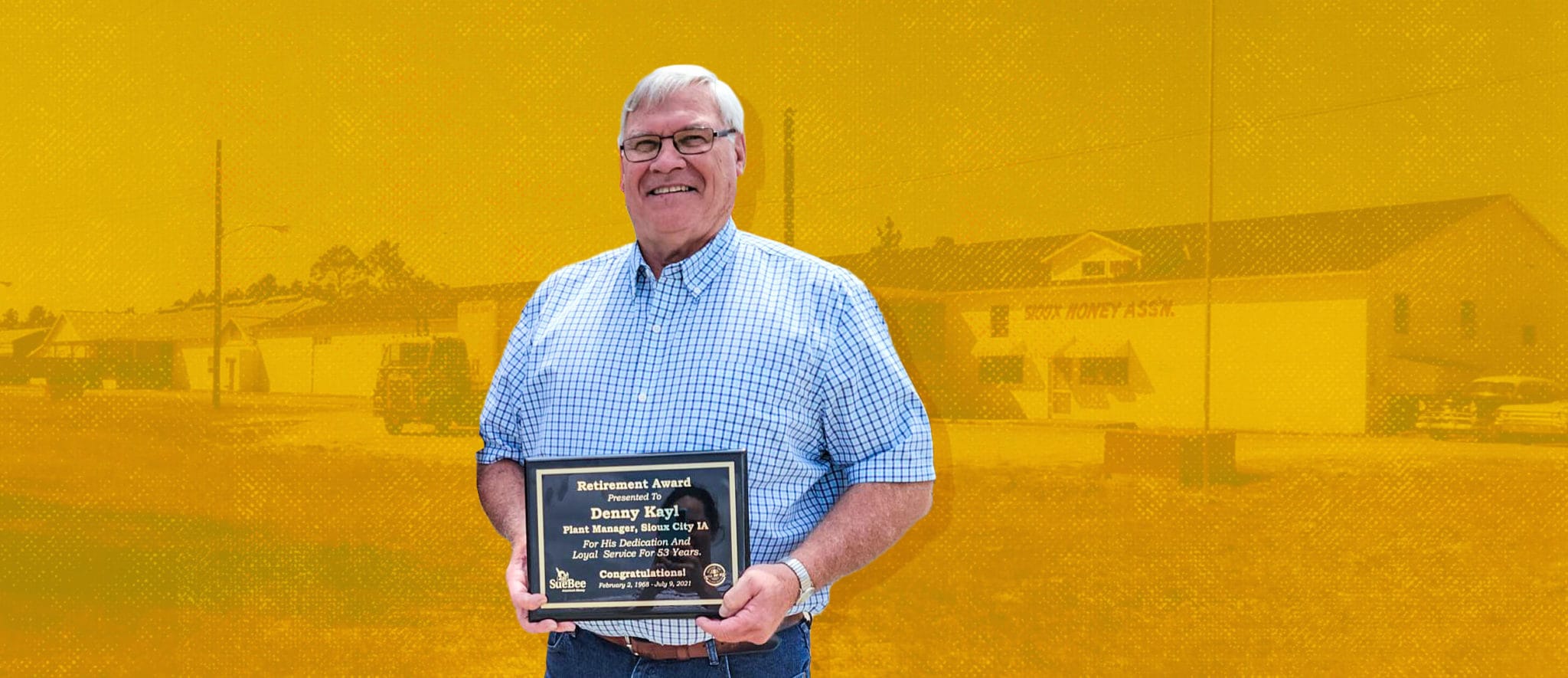 A lifetime of friendships and accomplishments
By far, the most memorable part of working at Sioux Honey all these years has been the people he gets to work with, Denny says.
"I love talking to the people and listening to them, hearing what they have to say. I have a lot of respect for these people. That's the biggest thing; you have to respect all of the people you work with – from the janitor to the top. Give them all the respect you can and have an open mind, listen to them, take suggestions and stuff like that. And when you're trying to accomplish something, go at it with an open mind and it'll all work out."
Denny has worked with seven different Sioux Honey presidents during his 53-year tenure.
"They've all been good; I liked working with all of them because they've got their ideas and you get to work together to make their visions become reality."
Pride in what they do carries a lot of weight, according to Denny.
"We take a lot of pride in what we put in that bottle," he says. "We deal with pure honey; that is probably our one keystone. There are no sugars added to it, and we don't even let them in the building for that reason. There are no sugars ever housed in here."
And what will he do with his time off?
Denny says he is looking forward to relaxing. But he also has plenty of projects on his acreage to keep him busy.
"I like to work with wood, I like to make canes and I like to hunt and fish and just enjoy the seasons. It's time to relax a little bit," he adds.
"But yet, I've got projects that I want to do, and my wife has got a lot more, so we'll get them all taken care of. We don't travel much. We're homebodies, I guess. But again, mostly, I'll be able to relax a little bit."
After 53 years, we think you've earned it, Denny. And you've also earned a very heartfelt "THANK YOU!" from all of us at Sioux Honey. We're going to miss you around here.
Honey's Amazing Versatility
We've learned a lot over the past 100 years as a beekeeper-owned co-op
When you've been collecting honey for more than 100 years, you learn a thing or two about its seemingly infinite uses. First and foremost, it's a natural sweetener in everything from tea and coffee to cookies, salads, chicken and so on. (Just take a glance at our recipes section for more examples than you can shake a honey dipper at.) The golden goodness of SUE BEE® honey goes well beyond its use as America's favorite condiment. Consider a few of our all-time favorite alternative uses for honey:
Dry skin? You guessed it – honey!
When winter rolls around, this honey hand and lip balm is a favorite for honey lovers. It's a natural solution that is known to help lock in moisture and give hands and lips a soothing and refreshing sensation.
Mild sunburn? Bug bites?
If you guessed honey – ding, ding, ding! You're right! Honey is a go-to for many when it comes to helping soothe itchy skin that comes from pesky bug bites, especially mosquitos. Got a bite? Try this soothing relief.
A hair-raising story
Honey in hair? Sounds like a sticky mess, right? But did you know that honey is a popular choice for those with dry, frizzy hair? Try on our Honey Egg Hair Mask for size.
We're Official!
USDA celebrates Sioux Honey Association Co-op's Centennial
Since 1921, the Sioux Honey Association Co-op has been working together to provide the best honey possible, and we couldn't be prouder to be an official USDA Century Cooperative.
"Sioux Honey Association is indeed a century cooperative that shows the sustainability of the cooperative model and how concrete benefits can be derived from a cooperative, both for the members participating in its use, ownership, and returns, but also for the high quality American-grown products the co-op provides to consumers through the U.S. food and fiber system," says the USDA.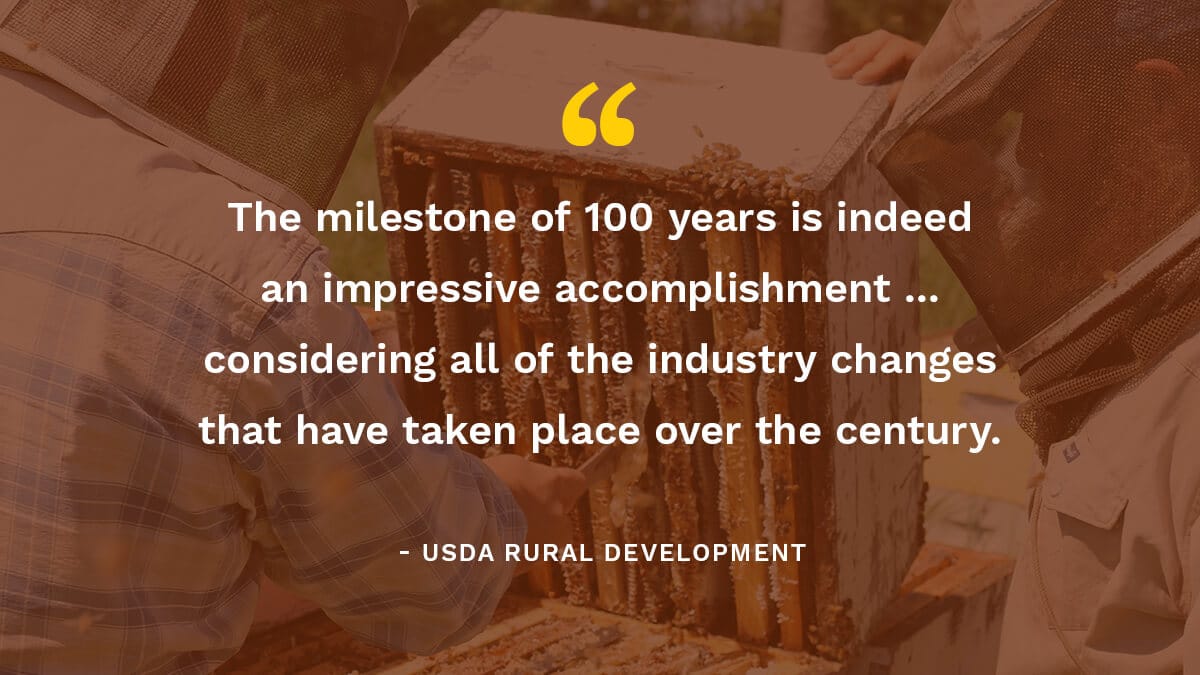 Of course, we would have never reached the century mark if not for the tireless work of our beekeeper families – many of whom are on their third and fourth generation of Sioux Honey membership. A warm and heartfelt thank you to all of them, and to all our Sioux Honey team members who have helped us achieve this milestone.
You can read more about how Sioux Honey has grown from five local beekeepers in Sioux City, Iowa, 100 years ago to more than 200 beekeeper members across the United States today in the article, "A Century of Sweet Success: Sioux Honey Association."